Welcome to ECOA¶
The European Component Oriented Architecture (ECOA) is an open specification for a software framework for mission system software comprising components that are both realtime and service-oriented.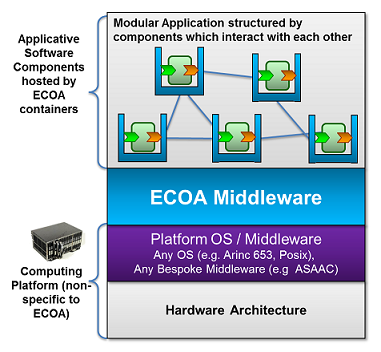 Starting in 2008, the European Component Oriented Architecture (ECOA) research programme is a collaboration between industrial partners and is jointly funded by the UK and French Ministries of Defence.
The objective of the research is to reduce the cost and timescales for production and modification of complex real-time aircraft software systems, by facilitating software portability and reuse.
The software architecture supports new business models for software procurement which may radically change the way that the defence industry does business.
A white paper has been produced to explain the advantages of ECOA and is provided through the link below.
An overview of ECOA is also available through this promotional multimedia.
This website provides public-domain information about the technology through documentation and tutorials. English is the selected technical language for the programme.